SITE STILL BEING BUILT
Click here for:-
the Home page
A Description of the site and of the various pages.
the Calendar Page, with details of Diary Dates
the Times of Church Services and Groups
to find out how to contact us and make bookings
Parish Organisations Section, including meeting times
a History of St Cyprian's Church and the Parish, plus links to other sites
A page to help you Search the site
the Feedback page
to find out WHAT's NEW

You will be very welcome at any of our services -- we'd love to see you. (Fuller details from the Church and on the Calendar Page. Click here. )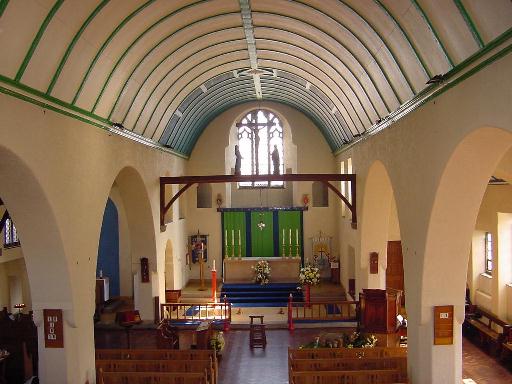 Interior of St Cyprian's Church, from the organ loft, looking towards the altar.
SERVICES IN ST. CYPRIAN'S CHURCH, CHURCHDALE ROAD, SHEFFIELD 12

Sundays

10.00am

Family Eucharist (followed by Refreshments)

4.00pm

Evening Service on some Sundays

(for details click here for the CALENDAR Page)

(6.30pm in Summer)

Weekdays

First Tues 2.00pm

Holy Eucharist: Service of Wholeness and Healing

Click this link to get a street map of our immediate location

To confirm time etc. of any service, click here for the CALENDAR Page)

The Blessed Sacrament is permanently reserved in Church for the Sick and Dying and those unable to make their communion at service times

If you are ill or housebound, we will arrange to bring Communion to you or we could arrange to celebrate communion in your home. Pease contact the Rector at the Phone number above or at rector@frechevilleparish.org.uk
For Christenings, Weddings, Blessings of Marriage/ Renewal of Marriage Vows (perhaps after a rocky patch or for a significant anniversary) or other services, please contact the Rector at the Phone number above or at rector@frechevilleparish.org.uk
Most of our Services are in accordance with Common Worship (The New Service Book of the Church of England). The Celebration of the Holy Eucharist almost invariably follows the options and rules of Order One -- Modern Language. Readings from the Bible at services are from a modern translation, normally The New International Version of the Bible. Hymns and Songs are from a wide variety of sources, including Hymns Ancient ant Modern (Revised), Mission Praise Books 1, 2 and the Combined Edition plus some we have written ourselves.
We produce a weekly leaflet containing the reading for the Holy Eucharist: details of many of the other parts of the service, including seasonal words etc; numbers of the hymns and the words of any hymn or song not in the hymn book being used for that service. You are very welcome to take the leaflet home with you.
We have produced a series of service booklets to guide you through our main services.