SITE STILL BEING BUILT
Click here for:-
the Home page
A Description of the site and of the various pages.
the Calendar Page, with details of Diary Dates
the Times of Church Services and Groups
to find out how to contact us and make bookings
Parish Organisations Section, including meeting times
a History of St Cyprian's Church and the Parish, plus links to other sites
A page to help you Search the site
the Feedback page
to find out WHAT's NEW
WELCOME
To the Website of the Church of England Parish of Frecheville, a residential district in South East Sheffield (UK).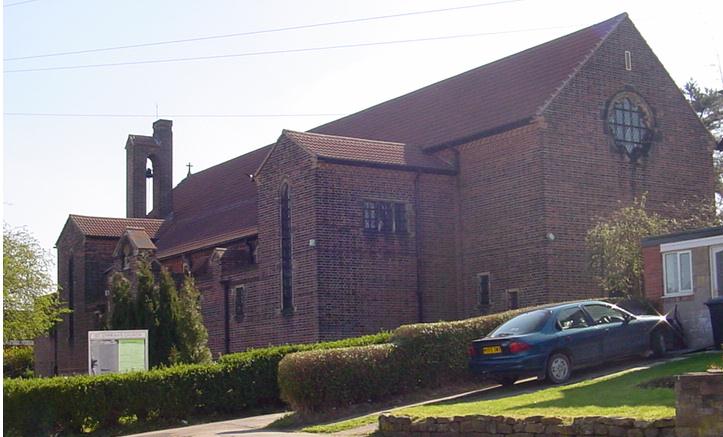 St Cyprian's Church, looking along Churchdale Road

How to find us
Click this link and zoom out to see where we are
Click this link to get a street map of our immediate location
St Cyprian's Church is on Churchdale Road, S12 4XY and the Church Hall is on Birchvale Road, S12 4XX

What's on the site
We are still in the process of building the site and have concentrated on getting these pages:-
online first.
Click here for a fuller description of these pages
NEW SECTION!
Click the Link for our new "WHAT'S NEW" Page --containing Parish News and Updates, including details of extra sections and pages of the site, as they are developed.
Other pages, such as further details about each of our organisations and their activities will be added later. Amongst these will be details of Out of School Childcare and the Youth Club's online magazine
Celebrations
2003 was the Centenary of the Organ. Circumstances have forced us to postpone the centenary organ recital, originally planned for 1st November, until 22nd May 2004. The recital is to be given by Nigel Gotteri. Tickets may be purchased from the Church or Rectory (Price £5 -- including Cheese and Wine) and fuller details will be posted nearer the date.
14th December 2004 will be the 70th Anniversary of the Dedication of the Original (temporary) St. Cyprian's Church Building, replaced by the present building in 1952.
History
We have started to publish a history of the Parish and of the church, including its links with St. James', Derwent -- flooded under the waters of the Ladybower Reserviour. Click Here
As well as having the history of the Parish and of the area, the History and Links page will be the gateway to links with the community and other sites of interest. (we anticipate this part of the site will be completed last).

How to Contact us
For fuller information on how to contact us, click here for the Bookings and Contact Page, which also contains details of how to book the Church Hall and make enquiries about Banns, Weddings, Christenings etc.
To help, we include some summary information here:-
Rector

Rev Mike Gillingham MA, Dip Social & Community Ed.

Pastoral Worker

Mrs M H Kay

Rectory Telephone

0114 239 9555 (from the UK) (+44 114 239 9555 from outside the UK)

Church Hall Telephone

0114 253 0582

Rectory Address

Frecheville Rectory, Brackenfield Grove, SHEFFIELD S12 4XS (UK)

Electronic mail

General Information: info@frechevilleparish.org.uk
Rector rector@frechevilleparish.org.uk
Webmaster: webmaster@frechevilleparish.org.uk

Organist and Director of Music music@frechevilleparish.org.uk